BULLSPOWER Engine Flush BULLSPOWER based on the Golden Time for Engine Abrasion Prevention
Did you know that pollutants could build up in the engine oil line just like the body wastes in the blood vessel?

For any engine, sludge and pollutants will be generated in certain parts, including an engine oil circulation path, due to blow-by-gas and carbonization. Any sludge will block the engine oil path and consequently interfere with smooth oil supply, hence shortening the lives of various engine components. Furthermore, it will change the physical properties and viscosity of engine oil, and accordingly shorten the oil life. It's like a medical condition caused by increasing body wastes in the human's blood vessel. BULLSPOWER Engine Flush will thoroughly clean the sludge in an engine oil line, including various engine parts, and optimize the engine performance.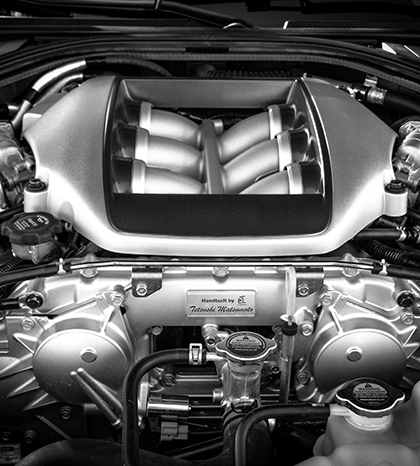 TECHNOLOGY
What is Engine Flush?

Strong dispersion of BULLSPOWER Engine Flush will chemically decompose the stained sludge in an engine oil line.
Then, the decomposed sludge will be emitted along with old engine oil.
With the replacement cycle of 10,000 km, you can keep the engine oil line as clean as possible.
It is very effective for any car whose engine oil is to be switched from mineral oil to synthetic oil.
Effect of BULLSPOWER Engine Flush

Powerful clean dispersant performs chemical dissolution of the stained sludge in the engine oil line.
The dissolved sludge is discharged with the old engine oil.
Clean engine oil line can be maintained by using the BULLSPOWER Engine Flush periodically for every 10,000 km.
It is effective in vehicles that are converted from mineral oil to synthetic oil use.
Solvent that reduces the performance of the engine oil and can damage the engine is not used.
Piston

Cylinder Head
What is EnMa?

It is the exclusive engine oil exchange method of Bullsone, and it is a service for removing the engine sludge and residual oil through
air shower and engine flushing.
Why does the residual oil need to be removed?

In the existing oil exchange method (free fall), 10~20% of residual oil remaining, so the new oil cannot perform 100%.
What is the difference of EnMa?

99% of the residual oil is removed through 3-stage engine management, and the performance of the new oil is maximized!
FAQ
No, solvent is not included. Bulls Power Engine Flush does not use solvent that can reduce the engine oil performance and damage the engine.


Engine Flush is recommended on the following vehicles.




Vehicles changing from mineral oil to synthetic oil use

Vehicles over 70,000km in driving distance / Vehicles with frequent city driving / Vehicles with frequent long-distance driving

Clean engine oil line can be maintained through regular use of Bulls Power Engine Flush for every 10,000km of driving distance.