Vehicle exterior is just like human skin.

Just like the skin is an essential factor for a nice look, the clean and shiny vehicle exterior would make your car looks like brand new.
Based on BULLSONE's proven technology, Crystal provides easy but effective car care solutions for customers who intend to keep their cars as good as new.
The mission of Crystal is to allow anybody to experience a car care expert's knowhow.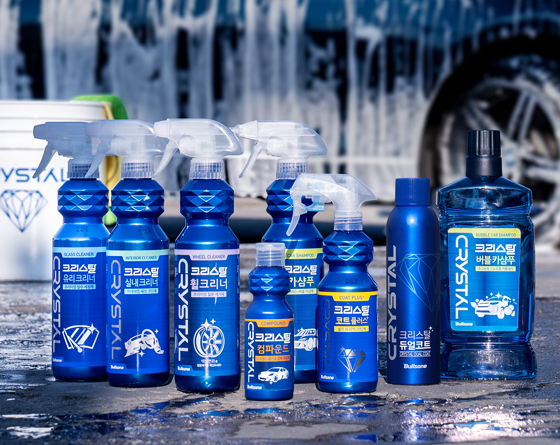 5 promises by Crystal
Leading
car care culture

Anyone can enjoy the car washing culture led
by BULLSONE.

Easy and simple
for everybody

Anybody can enjoy experienced expert's car care solution.

Reasonable price

Various professional products that can solve diverse issues are offered at reasonable prices.

Continuous innovation

As a leading car care brand in Korea, BULLSONE pursues continuous innovation.

Green Recipe

Green Recipe is practiced to protect the healthiness of the nature.
TECHNOLOGY
Market-leading performance

Based on in-depth analysis on detailing market and continuous innovation, BULLSONE has acquired various performance test data from the in-house R&D Center and certified institutions, thus leading the Korean car care market.
Perfect coating of painted surface

With Crystal Coat, water-drop contact angle will go up as the painted surface is coated. As the water-drop contact angle increases, stains on the car painted surface caused by pollutants will be reduced, hence keeping your car clean and shiny.
Crystal Coat's gloss test

Crystal Coat's water-drop contact angle test
Applied high standards for safety of use

Crystal Coat Plus is a product that meets the safety standards of Living Chemical Products subject to safety verification and is produced and managed under strict quality control. In addition, the skin irritation test completed through the Korea Testing & Research Institute (KTR), and the result showed that it does not cause skin irritation and corrosion.
Outstanding cleaning performance

Compared to other competitive products, Crystal Bubble Shampoo showed the largest change in color difference value before and after cleaning the painted surface. This means high cleanliness.
Crystal Bubble Washing Shampoo - Foaming

Crystal Bubble Washing Shampoo - Cleaning
Crystal Compound's scratch removal performance

Compared to other competitive products, Crystal Compound showed better performance for effectively controlling large & mid sized scratches of the painted surface.
Crystal Compound

BULLSONE Firstclass Scratch Remover

Company S-Compound
Green Recipe

Using materials designed to minimize bubble and enhance biodegradability; Non-

anionic surfactant*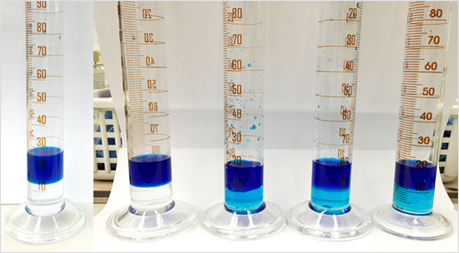 Reasons why *anion surfactants should not be used!
1. Legal restrictions : Anion surfactant < 5ppm.
2. Effect on water quality

Low biodegradability results in more bubble, hence blocking sunlight/oxygen, inhibiting the growth of useful microorganism, decaying water and leading to difficult sewage treatment.
Combined with calcium and sodium in the groundwater, it produces insoluble salt, thus resulting in foreign matters and difficult sewage treatment.
First Class
Car Shampoo
CC Bubble
Washing Shampoo
Product O by Company S
Product R by Company S
Company M
Non-anion
Non-anion
Anion found
Anion found
Anion found
FAQ
Periodic car wash plays an important role not only in the cleanliness of the vehicle, but also on durability. It depends on the climatic condition and tendency of the car owner, but it is recommended to wash the car regularly every 2 to 3 weeks. When the car is exposed to snow, rain, yellow dust, fine dust and also calcium chloride in the winter, these pollutants should not be neglected, and must be removed immediately.

There are various methods in the order of car wash, but we recommend for you to follow the order listed below.

1. Pre-wash: High-pressure water is used to wash the car as if sweeping from the top to bottom. Before using the managing agent, sand, dirt and thick foreign substances must be removed, and pre-wash has the effect of cooling the car surface.

2. Bubble Washing (Foam Gun & Foam Lance, Mitt Use): Bubble is sprayed by using the foam gun or foam lance, and to be left on the car surface for 3 to 5 minutes before using the mitt to wash the polluted areas of the car.

* Recommended Products: Spray-type washing (Crystal Car Shampoo, Firstclass Fomaing Car Shampoo), Car washing using Bucket/Foam Gun/Foam Lance (Crystal Bubble Car Wash Shampoo), Car Wash Products (Bullsone Car Wash Sponge)

3. High-pressure washing: Pollutants and remaining bubbles on the coating surface, glass, wheel and wheel house are removed, and bottom washing is also possible if there is bottom washing function.

In the winter season, bottom washing is very important because the deicers such as calcium chloride can cause corrosion.

4. Drying: After removing the moisture on the gap, drying towel is used to remove the moisture from the coating surface and glass, etc.

* Recommended Products: Bullsone Microfiber Towel Series (Large size, Basic Cleaning towel, Cleaning towel set(3 types))

5. Cleaning & Coating: Compound is used to manage the scratches and paint spots, and coating surface gloss coating and tire gloss products are used for car management.

* Recommended Products: Compound (Crystal Compound, Firstclass 2-Step Compound, Firstclass 3-Step Compound mini-kit, etc.),

Coating Surface Gloss & Water repellent (Crystal Coat Plus)

Tire & Wheel care (Crystal Wheel Cleaner, Crystal Tire Coat)

6. Car Interior Wash: High-pressure gun or vacuum cleaner is used to remove the dust from the mat, dashboard, air vent and seats to manage the pollution and gloss of the interior.

* Recommended Products: Crystal Interior Cleaner, Crystal Glass Cleaner, Carejam Leather Cleaner, Lotion, 2-Step Leather Care, etc.

When pollutants such as brake dust, iron and oil stain are attached to the wheel, they could not be removed easily with a general car shampoo or through car wash. Professional product for removing the pollutants without damaging the wheel must be used.

Crystal Wheel Cleaner contains active lyase to remove various pollutants on the wheel, and the disadvantage of a wheel cleaner of uncomfortable and strong smell is minimized to reduce any discomfort from car management.

In addition, when the solution is mixed with the pollutants, it will change into a purple color, so the removal of pollutants can be easily checked visually.

Tires are exposed to various pollutants repeatedly, and if they are not managed regularly, the rubber is deteriorated to result in discoloration.

Exclusive tire cleaner is used to wash the tire before having any pollutants removed, and exclusive coating & gloss product can be used to not only extend the tire life, but also to have gloss effect.

* Recommended Products: Crystal Tire Coat, Firstclass Tire Shine Protectant, Tire Shine, Wheel & Tire 2 in 1 Cleaner, etc.

Interior cleaner can be used on the dashboard and car seats inside the car to remove stain. For leather seats, exclusive management products can be used to remove stain, depending on whether the leather is genuine or artificial.

* Recommended Products: Crystal Interior Cleaner, Interior Clean & Shine, Upholstery Cleaner, Carejam Leather Cleaner & Lotion, 2-Step Leather Care

Fine dust, yellow dust and pollen on the coating or glass surface can be removed by using the exclusive duster. The duster is an ultra microfiber material to prevent any scratches on the coating surface, and only the pollutants are wiped off smoothly and cleanly.

* Recommended Products: Bullsone Premium Ultra Microfiber Duster, Bullsone 2 in 1 Ultra Microfiber Duster, Bullsone Car duster

The bug marks in the summertime and during high-speed night driving must be removed with a special cleaner to prevent any damages to the coating surface.

Firstclass Bug Cleaner includes proteinase to remove the bug marks cleanly, and there are is no stain or damage left on the coating surface.

* Recommended Products: Firstclass Bug Cleaner

Compound is a product for effectively removing the scratches, flaws, paint spots, water marks and swirl marks on the coating surface that could not be removed with general washers. It can be also used as the pretreatment product before using the wax and coating product.

Generally, small amount is applied to a smooth cotton to be slightly pressed on the scratched are, and rubbed in a vertical direction. the remaining products are then wiped gently in a circular movement with the clean side of the cotton for finishing.

Circular fine scratch on the coating surface after the car was is called a swirl mark, and is occurred frequently after going through automatic car wash. If the swirl marks are left unattended, they can reduce the gloss or cause diffused reflection, so timely and appropriate management is required.

By using Crystal Compound and Crystal Coat Plus, the swirl marks can be removed easily, and the product also provide gloss effect.

* Recommended Products: Crystal Compound and Crystal Coat Plus

The coating surface which coated well is the water drops and pollutants into a round form to be rolled off easily, so the pollutants are easily removed from the coating surface to have even and smooth surface.

Beading: Water drops forming in a round shape on the coating surface due to the surface tension

Sheeting: The phenomenon of the water drops and water flowing down due to the water weight and slope of the coating surface.

Sleek: It refers to the term for the smoothness level of the coating surface after treatment

* Recommended Products: Crystal Coat Plus

Wax products use natural wax (Carnauba Wax) as the ingredient to have outstanding gloss, but does not last for long period of time.

Crystal Coat Plus uses glass-based polymer to have more outstanding coating and water repellent abilities compared to the wax for having gloss and protective effect on the coating surface. The coating layer is built up in layers from continuous use in a layering effect to improve the gloss.

Professional ceramic coating cost is too much expensive, but it is now more affordable option is available through the convenient Crystal Coat Plus.




※ For effectiveness of Ceramic Coating

1) Washing convenience

2) Increasing Durability

3) Increasing Chemical resistance

4) Increasing GU(Gloss Unit)